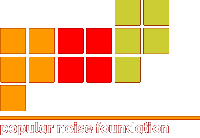 Events
---
Here you'll find events presented by PNF as well as listings of events and shows touching on issues of the Bay Area music scene. Cover To Cover shows are listed first, click here to skip to other events.
Cover To Cover

Our initial program, entitled "Cover To Cover" is a series of monthly performances featuring local bands from a variety of genres covering music by other Bay Area artists. Recently, C2C has switched to less frequent shows. If you have questions about Cover To Cover or wish to volunteer your band to play, contact us at c2c@popularnoisefoundation.org.
Sat Jun 9, 2001 @ Voodoo Lounge
A 7-band lineup including: Visitor Jim (feat. Jim Greer), Sexfresh, Jethro Jeremiah Band, Replicator, Ing, Real Sippin' Whiskies, and Sappington. Photos available.

Fri Mar 23, 2001 @ Starry Plough
A 9-band lineup including: Erik Carter (of Mumble and Peg), Ramona the Pest, Matt Easton, Bitesize, Mark Growden, Yuji Oniki, The Bellyachers, The Evil Triplets, The Kirby Grips

Sat Feb 17, 2001 @ Cafe Du Nord
A 9-band lineup including: Creeper Lagoon, Beth Lisick, Etienne de Rocher, Waycross, Tiny, Tree O Frogs, Project Pimento, Pollo Del Mar, Crack Emcee. Photos available.

Fri Jan 19, 2001 @ Slim's
Vegas De Milo, StuntMonkey, Pansy Division, Victor Krummenacher, New Dealers, Kindness , !Tang, Noe Venable, Drizzoletto, Paula Murrray Trio, & Ry Kihn (of Greg Kihn Band)

Thu Dec 21, 2000 @ Bottom Of The Hill
Scott Miller, Deborah Pardes, The Alvarados, Dean Del Ray, Jolly, Rumah Sakit, Blue Sky Roadster, Orixa & Barbee Killed Kenn. Photos available.
---
Other Events
---
ROCK OUT AGAINST WAR
Sat, Mar 1ST, 1-2PM - Everywhere!
On Saturday, March 1st, from 1 to 2pm, RockOut SF is organizing an hour where artists and musicians will perform SIMULTANEOUSLY in outdoor locations such as rooftops, parks and street corners throughout the entire Bay Area and beyond to protest the imminent war on Iraq. Find out more at http://www.rockoutsf.org.
---
Past Events
---
PNF at Live 105's BFD #9
Fri 14 Jun '02 @ Shoreline Amphitheatre

PNF will have a table and sharing information and accepting donations at Live 105's ninth BFD show. We'll also have a bunch of earplugs on hand to help out those who've arrived without theirs. Featured on 3 stages will be: Alien Ant Farm, Cypress Hill, Hoobastank, Jimmy Eat World, Papa Roach, P.O.D, The Strokes, Rob Zombie, Face To Face, Goldfinger, N.E.R.D., New Found Glory, Quarashi, Unwritten Law, The Vines, Paul Oakenfold, X-Ecutioners, Dieselboy, Dyloot & Tom Slik, Deepsky, Thomas Trouble, and Mystre.

NextArts Foundation @ Justin Herman Plaza
NextArts (www.nextarts.org) puts on FREE shows as part of their goals towards "bringing positive attention to underexposed performing artists and other San Francisco-area arts groups". See their web site for listings of upcoming and previous shows at Justin Herman Plaza.

PNF at Expo for the Artist 2002
Sat May 4 '02 11:00 am - 5:00 pm
CELLspace, 2050 Bryant St., SF

PNF is one of the sponsors of this year's Expo for the Artist, which is a public space for education, resource sharing, community interaction and cultivating the arts from the grassroots up. There will be workshops and panels for artists, as well as the first Angels Walkthrough, a venture philanthropy program for local artists developed with the Craigslist Foundation.

Expo for the Arts Benefit Concert Saturday, April 20 El Rio, 3158 Mission St., SF Featuring Zmrzlina, Deerhoof, and Kelly Stoltz

PNF at Expo for the Musician 2001
Sat 14 Jul '01 @ Cellspace

PNF will have a table at this event and also plan on releasing results from our Musician Survey. This event is for local musicians to mingle with organizations (and other musicians) plus get some real-world practical information about the music business. It's only $1 and includes workshops, panels, and some live music. Expor for the Musician is an expanded day focused on musicians from last year's Expo for the Artist. PNF is part of the Expo Working Group for the event.

PNF at Live 105's BFD #8
Fri 15 Jun '01 @ Shoreline Amphitheatre

PNF will be present sharing information and accepting donations at Live 105's eighth BFD show. Featured on 3 stages will be: Blink 182, Staind, The Cult, Fuel, Disturbed, 311, Stabbing Westward, Pennywise, Alien Ant Farm, The Living End, Oleander, Me First & The Gimme Gimmes, Cold, New Found Glory, Rehab, Saliva, Sum 41, Systematic, Tantric, including a Subsonic stage featuring Mix Master Mike & Mike D from the Beastie Boys!

A Tribute to 1974
Fri 8 Jun '01 @ Bottom of the Hill

9:30 pm // $8 // This show benefits PNF and features performances by Chantigs, Carlos, The Smarties, Ing, Petrol, American Heartbreak, and The Substitutes

H.E.A.R. / PNF Benefit
Thu 19 Apr '01 @ Hotel Utah Saloon
4th Street @ Bryant, SF

Check out the Benefit for PNF and H.E.A.R. (Hearing Education and Awareness for Rockers), Thursday, April 19th at Hotel Utah. The show starts at 8:30 p.m.; the lineup features:
Fleeting Trance - indie rock, cool songs and more!
Counterpoint - funky jammin' improv grooves!
Brass Monkey Brass Band - SF's own 'Nawlins-style brass band!

One Night Stand
Sun 18 Feb '01 @ Slim's
Proceeds to benefit PNF!

Join members of Creeper Lagoon, Oranger, Magnified, Smarties, Decal, Bitesize, Protein, Me First, Carlos, Dart, Enda, Amazing Embarassonics, Old Grandad, Christines, Flames, Luster, Kingdom First, Buddakhowski, Ing, Overwhelming Colorfast, Pansy Division, Jolly and many more - performing their favorite cover songs! Only $8.00 and all ages are welcome! Some photos available here.

Thu Dec 28 @ New George's (San Rafael)
Bay Area Groove and Jam Benefit Showcase #3
Proceeds to benefit PNF!

Garnish
King Harvest
Salvation Air Force
Fleeting Trance

Thanks to Wazzup Promotions!




Also, check out the website for RockOutSF, and event organized to raise awareness about the closure of Downtown Rehearsal Space, the lack of rehearsal space in San Francisco in general, and the consequential threat to the local music scene.